Praia da Luz (in english its the "Beach of Light") is the main beach in the tourist village of Luz. It shares the name with the village, so most of the time people say they are going to "Praia da Luz" instead of the village of Luz, so the beach is quite synonymous with the location.
It is a medium-sized beach with two distinct areas: the fine, clean and white sand, typical of the Algarve beaches, and sided by two "rocky areas", with plenty of rock pools and beautiful cliffs, including our iconic "Black Rock". The water is clean and transparent. There are a couple of Beach Huts, as well as restaurants and snacks bars lining the beach which provide numerous beach activities for everyone to enjoy.
This is a Blue Flag Beach. A Blue Flag status is awarded to beaches that meet the standards of water quality, safety and general environmental management. It is a standard met in more than 30 countries.
Praia da Luz is also a Water Gold Standard beach an award from the environmental agency Quercus regarding water quality, to achieve this standard you need 5 years in a row of good water quality and the last 3 years it has to have excellent quality.
Also Praia da Luz is always in the top beaches in the Western Algarve from TripAdvisor, Destination Algarve or Beach Inspector to name a few for obvious reasons.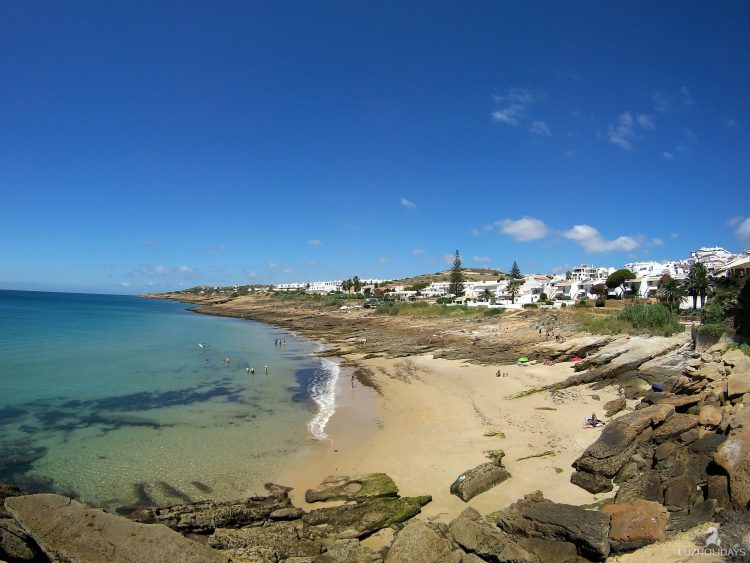 There is also a smaller beach that we locals call "Prainha" (Little Beach). It is a low-tide, small rock sided beach located on the other side of the fortress in Luz, just off the Rua Calheta.
Location

Beach Facilities
Lifeguard (during Summer Season)
Several Watersposts
Handicap Facilities
Sunshades
Beach Bars
Beach Stores
Showers and Bathrooms
Promenade