Faro Airport is the quickest way to arrive from abroad to the Algarve, it is seven kilometers west of the city of Faro. It is a modern airport, with arrivals and departures halls connected with each other, between these two halls is where you can find most service counters. Being situated around 3 hours flight from major European centers, it has become a staple for many budget companies to have direct flights from North Europe to Faro.
So here are some tips and information to help your arrival safely to Faro Airport:
Location
Faro Airport is easily accessible, the exit from the coastal road EN125 is clearly indicated. From the airport there is only one way that leads to the EN125 and then to the highway. Most tourist places are accessible within one hour. It takes approximately 20 minutes to Almancil, 30 minutes to Vilamoura, 45 minutes to Albufeira and 1 hour to Lagos.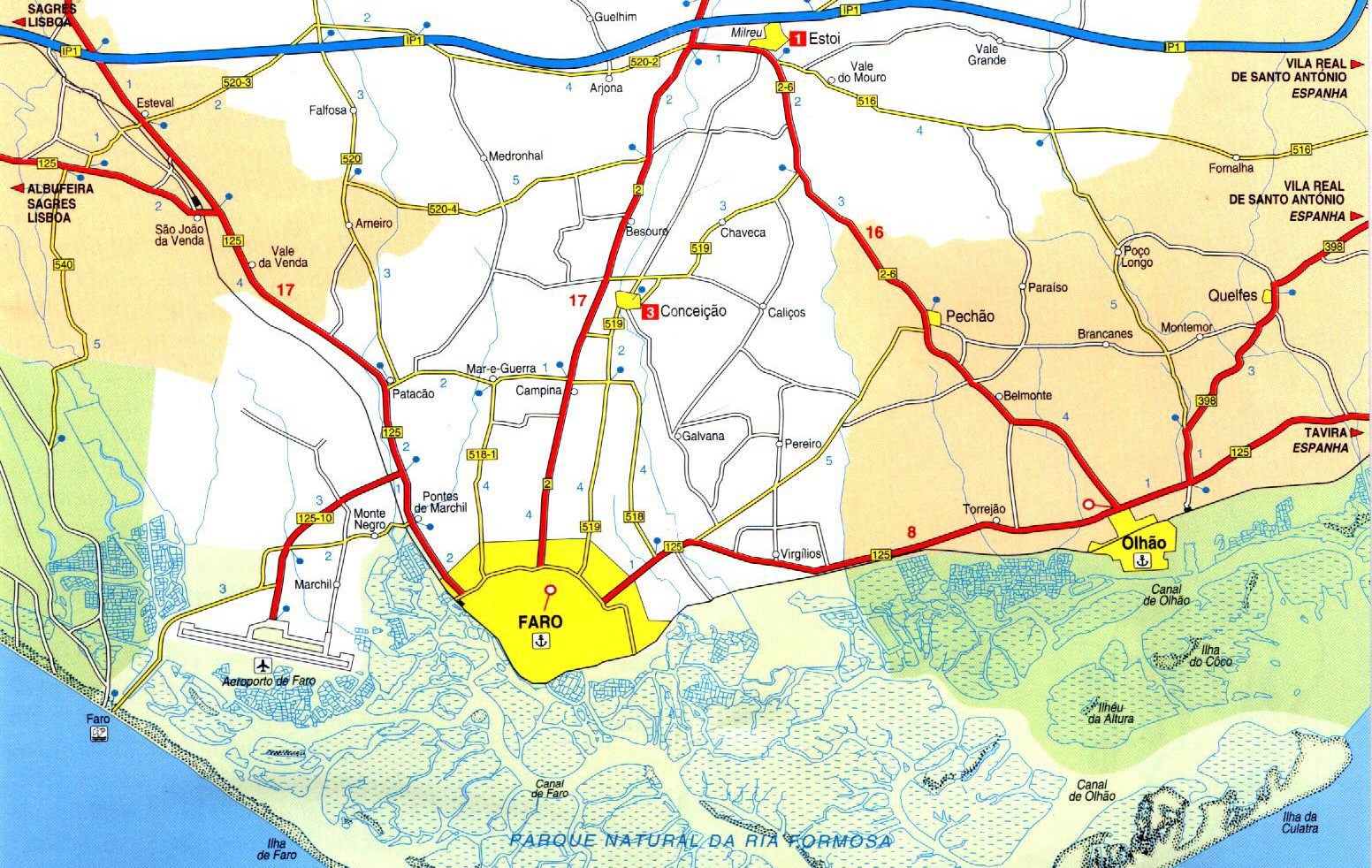 Bus
The bus goes from the airport to the center of Faro. From the bus station a fast bus (Serviço Transrápido) goes to various tourist places along the coast, the bus leaves, on average, every half hour from the airport in the high season.
Taxis
Taxis can take at most, four passengers, the rate is approximately €1.00 per kilometer. If you come out of the Arrivals Hall and walk to the right you will come to the taxis.
Transfers
There are transfers available (small buses), but for most you will have to be booked in advance, still cheaper than taxis and they drop you off at the location of your choosing, you can book a transfer with us if you are booking your vacation with us, just send us a e-mail or call us.
Car Rental
There is a large range of car rental companies: Europcar, Avis, Hertz, Alamo, Budget, Rentauto, Sixt and Auto Jardim, the counters can be found in the Arrivals Hall. The prices for renting a car in the Algarve are lower than in North Europe especially if you choose a local company. You can also reserve a rental car in advance if you are booking with us, you can find out more here.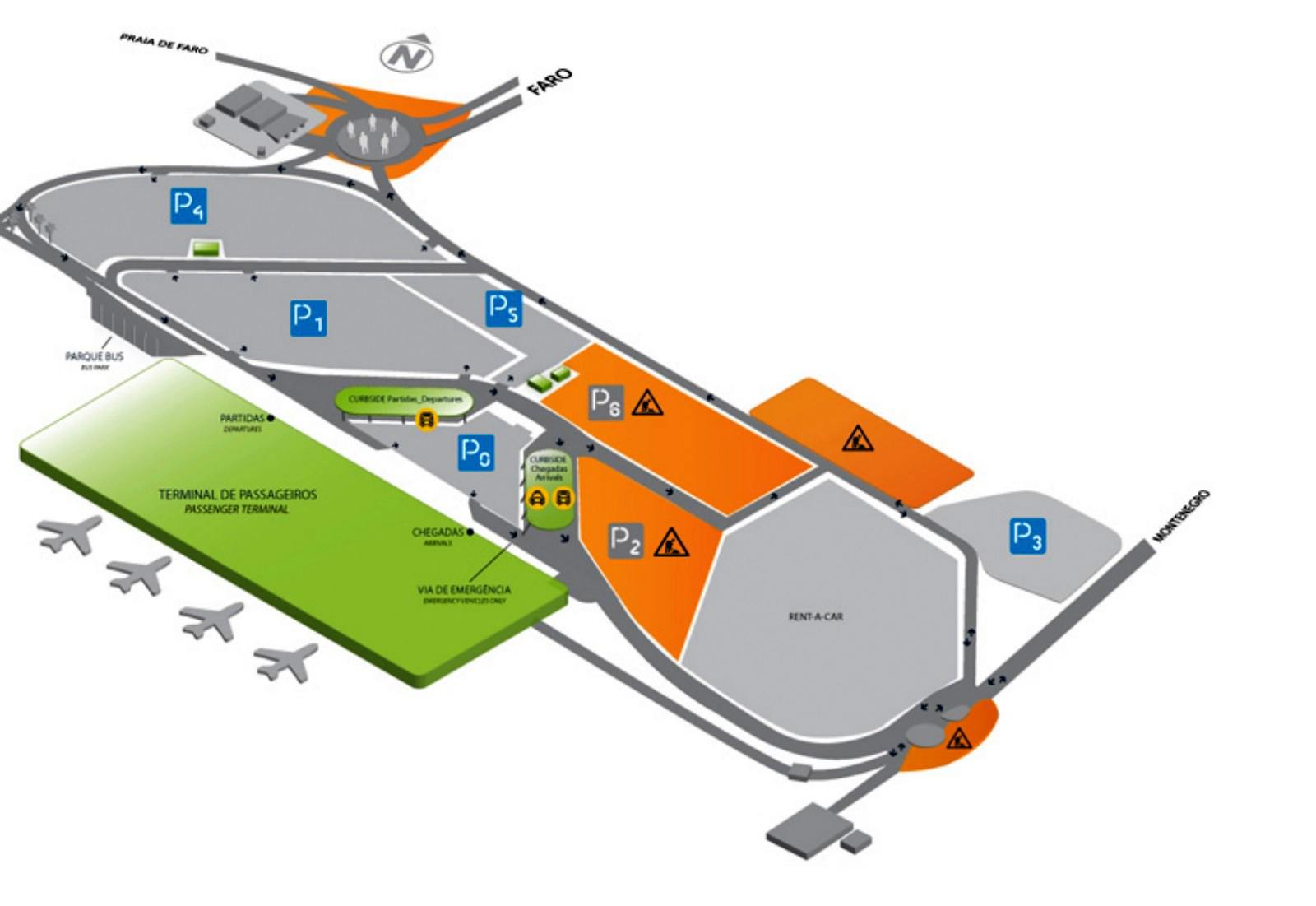 Shops and Restaurants
The airport has a reasonable number of bars, coffee shops and stores. The tax-free division has the customary offering of cigarettes, drinks and luxury foods. However, some items such as liquor and wines can be found cheaper in the local supermarkets.
Lost Baggage
Found items (tel: +351(0)289 800 688), the window is close to the meeting point at the terminal.
Disabled facilities
Faro Airport has adapted elevators and toilets for the disabled. Special parking spaces are opposite the terminal building.
Information Desks
There is an information service desk at the meeting point in the terminal building. Passengers can contact the information service (tel: +351 (0)289 800 617) for details of flights, disabled facilities, opening hours and public transport timetables. Cultural and tourist information is also available on arrival from the ICEP desk.
Other services
There are banks, money exchange offices and ATM's in the Arrivals Hall and Departures Hall, there is also a post office.
Airlines
These are some of the airlines and destinations available (there are always new ones every-year so check Ana Airports for up to date Airlines), however you might also find cheaper flights by searching on other travel sites, especially for lastminute bookings, you can check Lastminute, Hipmunk, Kayak or Mobissimo:
Airlines
Destinations
Aer Lingus
Belfast-International [seasonal], Cork [seasonal], Dublin
Air Berlin
Berlin-Tegel [seasonal], Cologne/Bonn [seasonal], Dresden [seasonal], Düsseldorf [seasonal], Hamburg [seasonal], Leipzig/Halle [seasonal], Münster/Osnabrück [seasonal], Munich [seasonal], Nuremberg [seasonal], Paderborn/Lippstadt [seasonal], Palma de Mallorca
Bmibaby
Birmingham, Cardiff, East Midlands
British Airways
London-Gatwick
British Airways operated by BA Cityflyer
Glasgow-International [seasonal]
Brussels Airlines
Brussels
EasyJet
Belfast-International, Bristol, Doncaster/Sheffield [ends 4 January], Glasgow-International, Liverpool, London-Gatwick, London-Luton, London-Stansted, Newcastle upon Tyne, Paris-Orly
Germanwings
Cologne/Bonn, Stuttgart [all seasonal]
Jet2.com
Blackpool [seasonal], East Midlands [begins 12 May 2011], Edinburgh [seasonal], Glasgow-International [begins 1 April 2011], Leeds/Bradford, Manchester [seasonal], Newcastle upon Tyne [begins 2 April 2011]
Lufthansa
Frankfurt, Munich
Luxair
Luxembourg
Monarch Airlines
Scheduled – Birmingham, London-Gatwick, London-Luton, Manchester

Chartered – Cork, Dublin, Shannon [all seasonal]

Norwegian Air Shuttle
Copenhagen, Oslo-Gardermoen, Stockholm-Arlanda
Ryanair
Billund [seasonal], Birmingham [seasonal], Bournemouth [sesonal], Bremen, Bristol, Brussels South-Charleroi, Cork, Derry [seasonal], Dublin, East Midlands, Edinburgh, Eindhoven, Glasgow-Prestwick, Hahn, Kerry [seasonal], Knock [seasonal], Leeds/Bradford, Liverpool, London-Gatwick [begins 31 October], London-Stansted, Lübeck [seasonal], Maastricht [seasonal], Madrid [seasonal], Marseille [seasonal], Memmingen [seasonal], Milan-Orio al Serio [seasonal], Oslo-Rygge [seasonal], Paris-Beauvais [ends 30 October], Porto, Stockholm-Skavsta [seasonal], Weeze
SATA Air Açores
Funchal,Ponta Delgada
Swiss International Air Lines
Zürich
TAP Portugal
Lisbon
Thomas Cook Airlines
Birmingham, Bristol, Cardiff, East Midlands, Glasgow-International, Leeds, London-Gatwick, London-Stansted, Manchester, Newcastle upon Tyne
Thomson Airways
Belfast-International [seasonal], Birmingham [seasonal], Bournemouth, Cardiff [seasonal], Doncaster/Sheffield [seasonal], East Midlands [seasonal], Exeter [seasonal], Glasgow-International [seasonal], London-Gatwick, London-Luton [seasonal], London-Stansted [seasonal], Manchester, Newcastle upon Tyne [seasonal]
Transavia
Amsterdam, Eindhoven, Groningen, Rotterdam [seasonal], Copenhagen
TUIfly
Düsseldorf [seasonal], Frankfurt [seasonal], Hanover [seasonal], Munich [seasonal], Stuttgart [seasonal], Bergen, Copenhagen, Gothenburg-Landvetter, Helsinki, Oslo-Gardermoen, Stockholm-Arlanda
Airport Contacts
Address
Faro Airport
8001-701 Faro
Portugal
Telephone, fax, email
Telephone: +351(0)289 800 800
Fax: +351(0)289 818 802
Email: faro.airport@ana-aeroportos.pt
Airport Codes
IATA airport code: FAO
ICAO airport code: LPFR